4-Week Courses
---
Normal Group Session Rates
Single Person Rate: $35
Partnership Rate: $65
Drop-In Rate: $10
ASK ABOUT HOW TO RECEIVE 1 FREE LESSON!
CLASS OFFERING
6-Week Courses
12-Week Courses
Private Groups
Private Lessons
Dance lessons are the gift that lasts a lifetime and perfect for the following occasions:
Engagements
Holiday Gifts
Birthdays
Graduations
Anniversaries
Congratulations
Valentine's Day
Mother's Day
Father's Day
Retirement
Business Gifts & Incentives
And most of all, just for fun!
Option 1: Send an e-Gift Card
NEW! Due to popular request, we now offer e-Gift Cards that can be sent anywhere and anytime via text or email. To purchase a gift card, simply click on one of the following packages:
Option 2: Print a Traditional Gift Certificate
Looking to get creative? Contact Melissa Finke at (509) 993-1204 to build a customized gift certificate package tailored to accommodate the unique needs of the recipient.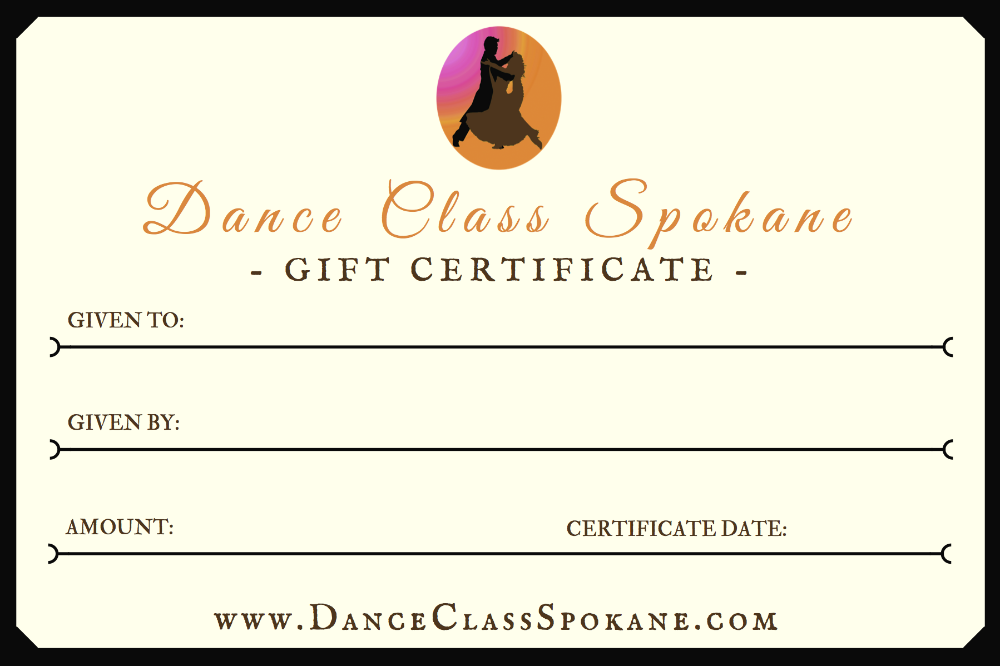 Download Instructions: To download the above gift certificate, simply right click on the image and select "Save Image As." Once saved, simply open the file and print accordingly.